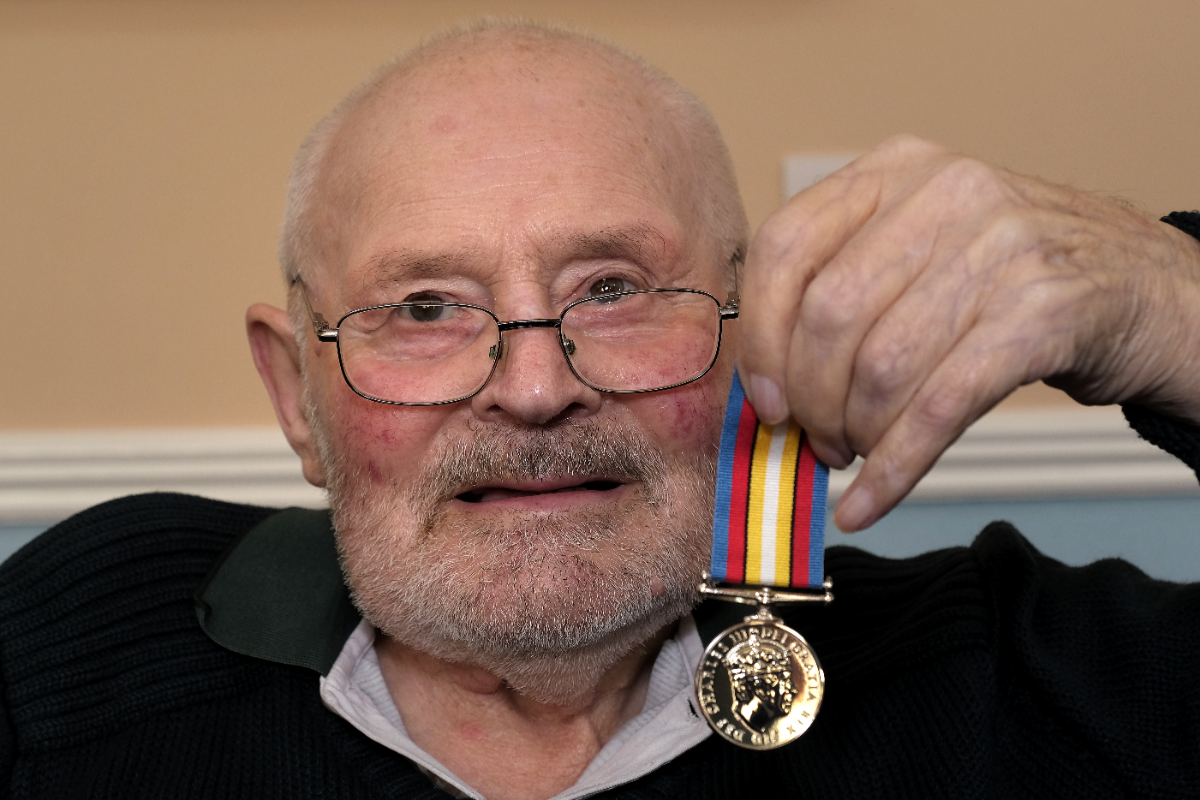 A near 70-year wait to receive recognition for taking part in the UK Nuclear Test Programme has finally come to an end for a Whitby nursing home resident.
Eric Copeland, 86, was thrilled to receive his Nuclear Test Medal after a member of staff at Jubilee House applied for it on his behalf.
The veteran was in the RAF in the 1950s and did two tours of duty of Christmas Island at the time of the nuclear tests.
He remembers witnessing the mushroom cloud explosions but he, and some 22,000 other British servicemen who played their part in the tests, never got a medal for their service. That was remedied earlier this year when the Government announced that they would be getting a medal.
Jakki Edmond, Activities Co-ordinator at the Saint Cecilia's Care Group-owned home in Whitby, did all the paperwork to apply for Eric's medal. He has already received a Veteran's badge for his military service.
Jakki said:
"He told me all about his time on Christmas Island and he has a cabinet of seashells he collected at the time,"

"He always said they had never received any recognition and so when I learned that they were doing a medal for those servicemen I applied on his behalf.

"When I heard he was getting one and that it was on its way, I was absolutely thrilled for him – he's getting a medal he has thoroughly deserved and waited so long for, it is wonderful. So many of those servicemen who were serving during the nuclear tests sadly died young, so Eric is our little miracle."
Though Eric's memory might be flagging a little he can still reel off his service number when asked. He was presented with his medal by Martin Drake, Chairman of the Scarborough RAF Association.
He said:
"It's a very great honour to present Eric with his medal. Eric has waited 68 years for this medal and, as an association, we are very proud to be able to finally give him it today."
Eric's nephew, Andrew Copeland, paid tribute to Jakki's efforts to get the medal for his uncle.
"Uncle Eric is very proud of his national service and this medal recognises that contribution. It's amazing what Jakki has done to get this sorted and I know it means a great, great deal to Eric."
Saint Cecilia's Managing Director, Mike Padgham added:
"This is a lovely story and we are delighted for Eric that his long, long wait for this recognition has finally been rewarded. We are delighted to have played a part in getting him the recognition he so richly deserves."

Eric is pictured with his medal and with, from left to right: the Mayor of Whitby, Bob Dalrymple, Martin Drake, Chairman of Scarborough RAF Association and Jubilee House Activities Co-ordinator Jakki Edmond, who applied for the medal on Eric's behalf.