How to Listen

Here's How to Tune in to "This is the Coast"
You can listen:
on DAB
on the website,
via our free smartphone Apps,
on Smart Speakers
and on Roku devices.

Tune in on DAB+.
We are broadcasting on the North Yorkshire DAB multiplex using the latest DAB+ technology.
You'll be able to find us listed in your station list by our name. Look for either...
This IsThe Coast
TheCoast
Depending on your radio you might need to do a 'rescan' to find us the first time.
Whilst some older DAB digital radios might only receive DAB stations, the majority of newer devices can receive DAB+ stations as well as DAB, and there are lots of DAB/DAB+ radios available which will give you access to DAB and DAB+ stations..
To receive DAB+ stations you must have a DAB+ enabled radio. The simplest way to be sure, is too look for the Digital Radio Tick Mark on the radio or its packaging. All radios that bear that Tick Mark are able to receive FM, DAB and DAB+ stations.
If you are buying a new digital radio, look for the Digital Radio Tick Mark as this means the radio is DAB+ enabled and will receive the available DAB, DAB+ and FM radio stations. If the product does not have the Tick Mark, then read the product description carefully and check that it specifies DAB+.
Mobile Apps
In our mobile apps you can listen live to This is the Coast, and you can access the latest news, weather and local information. You can also receive alerts from our newsroom with the latest breaking news, travel and weather incidents.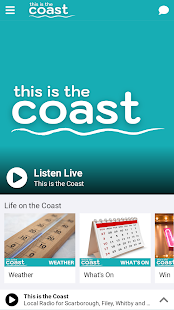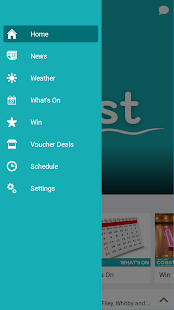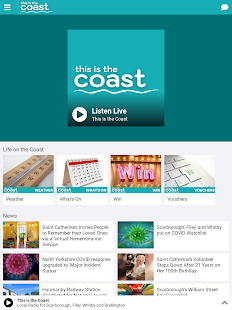 The iOS app is available now from the Apple App Store
The Android App is available from the Google Play Store

Smart Speakers

You can listen live on most smart speakers.
For Amazon Echo or Alexa devices you will need to enable our skill which you do either by asking Alexa to "Enable This is the Coast" or you can enable it from your Amazon account by clicking the logo below, make sure you log into the same Amazon account that your speaker is attached to.
Then start listening by saying....
"Alexa, Play This is the Coast" or "Alexa, Start This is the Coast"
For Google Smart speakers simply say....
"Hey Google Play This is the Coast"
or
"Hey Google, Ask TuneIn to Play This is the Coast"
Google withdrew their "custom actions" feature on June 13th 2023. This is what we and many other radio stations previously used to provide our Google speaker service.

If you get the message "This is the Coast is no longer available" then try using one of the new invocation phrases above to play the station.

This is The Coast will be unaffected on other platforms and still available via DAB Radio, Amazon Echo Devices, Smart Phones (via our app), and Online.
Smart TV
If you have a ROKU smart TV, ROKU Box or Streaming Stick you can tune in by using our ROKU Channel which can be added from your device or by going to the Roku Channel Store here...

Other Ways to Listen
We aim to support as many platforms as possible to make it easy for you to listen to This is the Coast on whatever device you use.
You can also tune in via the following services..


So what about FM?
Well, OFCOM are not issuing any more FM licences so we are unable to get an FM frequency. The future of radio is digital, and we are embracing that with our suite of digital platforms including DAB+, Smart Speakers, Smartphone Apps, Smart TV Apps and online streaming.
67% of UK radio listening is now via digital platforms with just 32% of listening now attributed to AM and FM stations.
OFCOM have awarded our sister company, East Coast Digital Radio, the licence to build and operate a DAB transmission network for the Yorkshire Coast. We are currently working on building this network which will bring enhanced DAB coverage for Whitby and Bridlington.