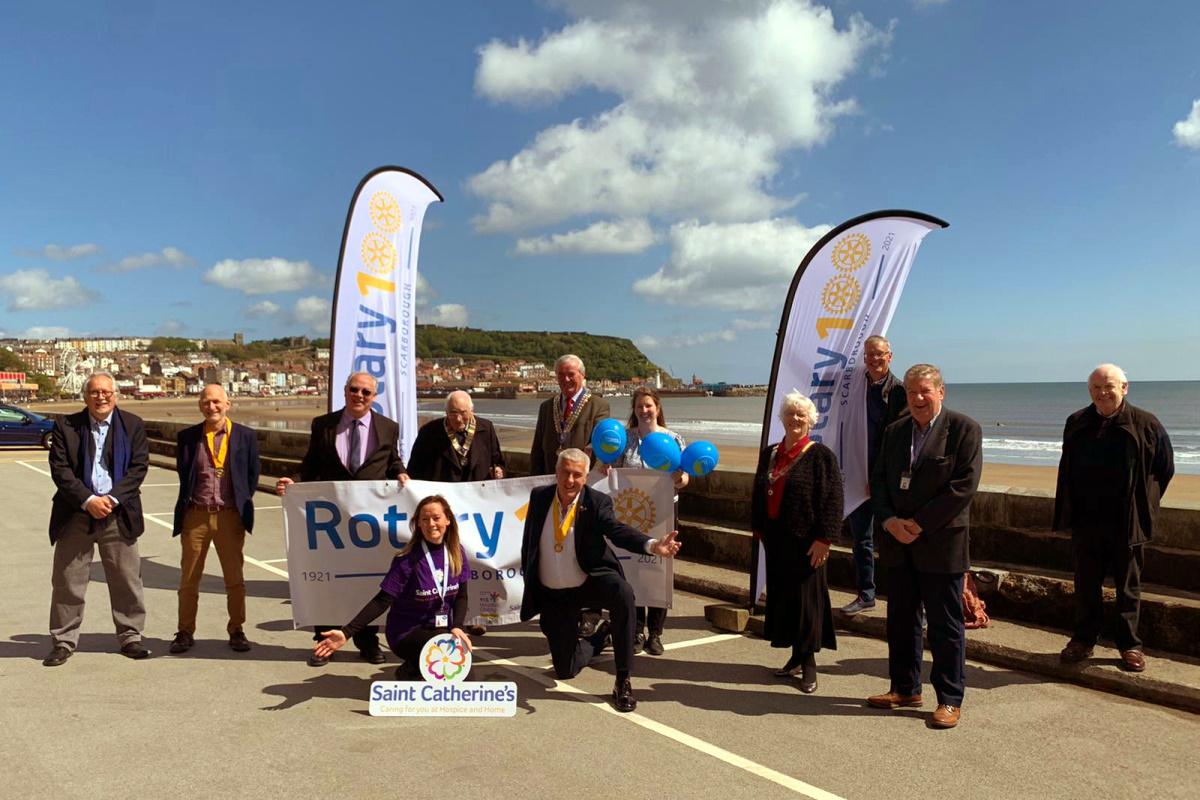 An ambitious project has been launched by Scarborough's Rotary groups aimed at raising £100,000 for charity in celebration of their centenary year.
The year-long ROTARY100 project will run from July 2021 to mark 100 years since the start of Rotary in Scarborough, which began in 1921.
The town has three Rotary groups, which are
The Rotary Club of Scarborough,
Scarborough Cavaliers and
the affiliated Scarborough Inner Wheel.
These three groups will join forces for ROTARY100 under the theme of 'fun, friendship and fundraising'.
During the year, the clubs will aim to get 100 businesses, groups and/or individuals on board with the project, each being encouraged to raise £1,000.
The Rotary 100 project will start in July.
Past President of the Rotary Club, John Riby explains what they are hoping to achieve
The proceeds will be shared between Saint Catherine's Hospice, York Teaching Hospital Charity (Scarborough Hospital) and Scarborough YMCA who have each identified an important project they would wish to undertake to help people in the Scarborough community.
Nigel Wood, incoming President, The Rotary Club of Scarborough, said:
"Rotary in Scarborough has a long tradition of helping our community. We want to celebrate our centenary with a programme of events which are fun, foster new friendships and raise much needed funds for three very worthy causes which are at the core of our community."
Nigel says there are already a number of fundraising ideas being talked about.
Tracy Calcraft, Income and Business Services Director at Saint Catherine's, said:
"We are absolutely thrilled to be a part of the ROTARY100 celebrations and are looking forward to a year of fun and fundraising. The money raised will make such a huge difference to patient care and we are looking forward to seeing what this special year brings. Thank you to everyone at Rotary in Scarborough for your wonderful support."
Lucy Clegg, charity fundraising manager at York Teaching Hospital Charity, said:
"York Teaching Hospital Charity, on behalf of Scarborough Hospital, is absolutely delighted to have been chosen to be part of such an exciting project. We are excited to see the project unfold and look forward to seeing the impact of the money raised at the hospital and further afield in our Scarborough community."
Graham Ibbotson, Scarborough YMCA theatre manager, said:
"We are really excited to be part of the ROTARY100 project and look forward to a year of fun, friendship and fundraising with the community of Scarborough."
The ROTARY100 team will be making contact with organisations in the Scarborough area in the coming weeks about how they can get involved and support the initiative.
There is also a packed programme of Rotary events for the coming year, with more details to be released in due course.
If you would like to find out more or get involved with ROTARY100, please email ROTARYScarborough@gmail.com