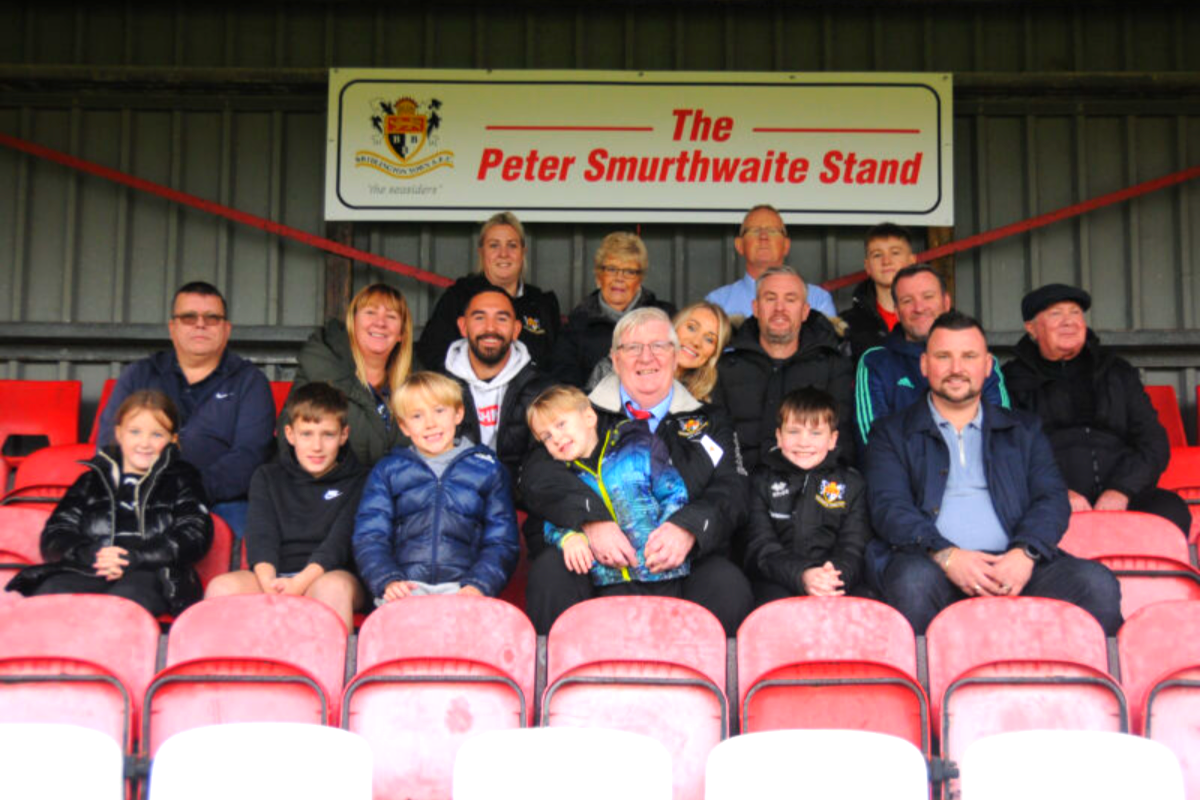 Bridlington Town Football Club has announced that the Hudgell Solicitor Stadium's main seated stand, located at the west side of the stadium, has been officially named 'The Peter Smurthwaite Stand'
The gesture comes as a recognition for Peter's dedication to the club, not only financially but a lot broader than that, over the past 22 years he has been involved with the club. Peter is also nearing 20 years as chairman of Bridlington Town Football Club, a milestone in which he will reach in 2024.
Prior to the Consett AFC game on Saturday 18th November, the news was broken to Peter, who was joined by his wife Gina, sons Brendan and Glen, as well as Peter's grandchildren and other family members to make the occasion as memorable as possible for the Bridlington Town legend.
The man himself has commented:
"It's nice to know my efforts have been appreciated by some of the people of Bridlington. I understand the original idea was put forward by Jon Tindall and Chris Brunning and I thank them and everyone else who was involved in making it happen. I also thank all the volunteers who have helped me to keep the club going for the last 22 years whilst I have been involved at the club."

"In that time I have met some really good people in the non-league family which has made the involvement here more rewarding even in defeat at times."
He added:
"It was really emotional to see my family and friends being involved and being in attendance on Saturday and thanks to the management and players for putting their best performance of the season so far on the pitch which I did thank them for afterwards"
Vice Chairman Jon Tindall, who was instrumental in organising the idea, said:
"Chris Brunning came to me with the idea, as Vice Chairman I thought it was an excellent idea. We had it designed and printed by 'Sign and Designs'. We then needed the help of Gina, Pete's partner, to arrange the family with a date that suited us all"

"Chris and I installed the sign on Saturday morning, Becki Brunning sorted the buffet for the family, George Tindall helped with peeling the cover off the sign and Mollie Brunning presented Gina with flowers."

"Pete was really pleased with it and all the effort we had gone to. A few of the supporters said it was a really nice idea and gesture I think I speak for everyone that it is appreciated what Pete does for the club"