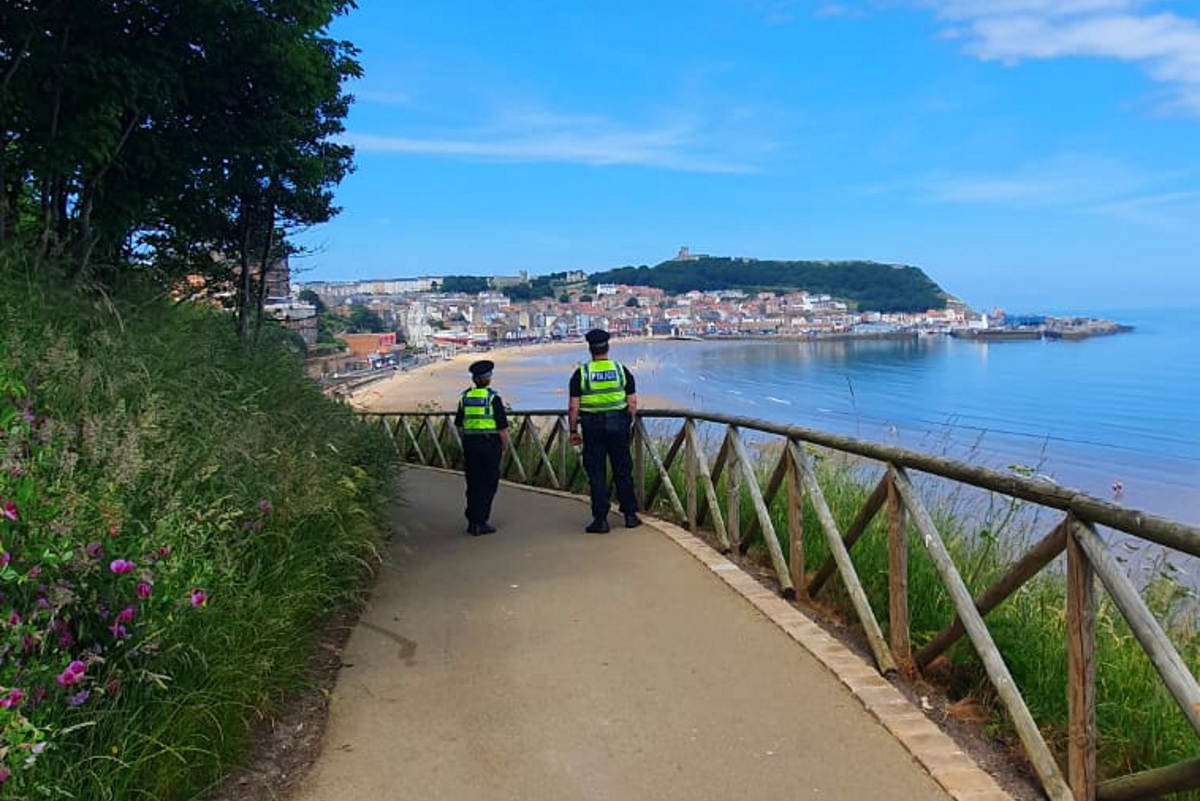 North Yorkshire police say they have been working with the event organisers to make sure it's a safe and secure occasion.
Up to 100,000 people are expected to gather in Scarborough for the National Armed Forces Day Event on Saturday.
Scarborough Borough Council has ownership of event management, and the Royal Navy is the lead service within the Armed Forces and is responsible for military representation at the event.
Attractions expected on Saturday 25 June include air shows and a naval beach landing. Community events will also be taking place using the beach and pier. Foreshore Road will be host to military stalls and demonstrations.
Superintendent Ed Haywood-Noble, North Yorkshire Police's Event Silver Commander, said:
"This will be one of the largest events and police deployments in North Yorkshire this year and we are delighted to be playing our part in its success.

"Scarborough is used to holding large public events such as the Tour de Yorkshire with similar numbers of spectators.

"We are mindful that there will be a substantial section of the community, including residents and visitors, who are not involved with Armed Forces Day and wish to go about their usual daily business with as little disruption as possible.

"Access for emergency services is also a key consideration for all the partners involved in the planning of the event and this will be prioritised throughout the weekend.

"We are all working together to deliver a safe, secure and memorable national Armed Forces Day for all."
North Yorkshire Police say they will be deploying extra officers to be on patrol, particularly in crowded locations during the event, helping to keep everyone safe and ensuring everyone can all enjoy the celebratory atmosphere.
Supt Haywood-Noble said:
"We are conscious that large crowds are expected to gather in certain areas of Scarborough, so our policing teams will be working alongside the event stewards to make sure there is no overcrowding and to prevent opportunist thieves and other criminals taking advantage of the situation.

"Safety and security are our overriding concerns throughout the event."
The North Yorkshire force says it has already been sharing some of their Project Servator deployments in the build-up to the event and these will continue throughout the weekend. This policing tactic is designed to disrupt a range of criminal activity, including terrorism, while providing a reassuring presence for the public. The approach relies on unpredictable and highly visible police deployments, whilst at the same time, building a network of vigilance made up of business and community partners, and the public.
Project Servator differs from normal policing in that officers involved are specially-trained to spot tell-tale signs that someone may be carrying out hostile reconnaissance – information gathering that may help them plan or prepare to commit a crime.
North Yorkshire police say:
"Our officers will be patrolling around the town but you can also play a key role in looking out for anything suspicious. If you see something that doesn't look right, please tell a police officer, call the confidential Anti Terrorist Hotline on 0800 789 321 or report it via our website.
If it's an emergency, always call 999."

"For more information on what to look out for and how to report it, follow the link to the ACT (Action Counters Terrorism) website at https://act.campaign.gov.uk/

We've no reason to believe this event will be targeted by a terrorist attack. But if the worst happens, RUN, HIDE, TELL."