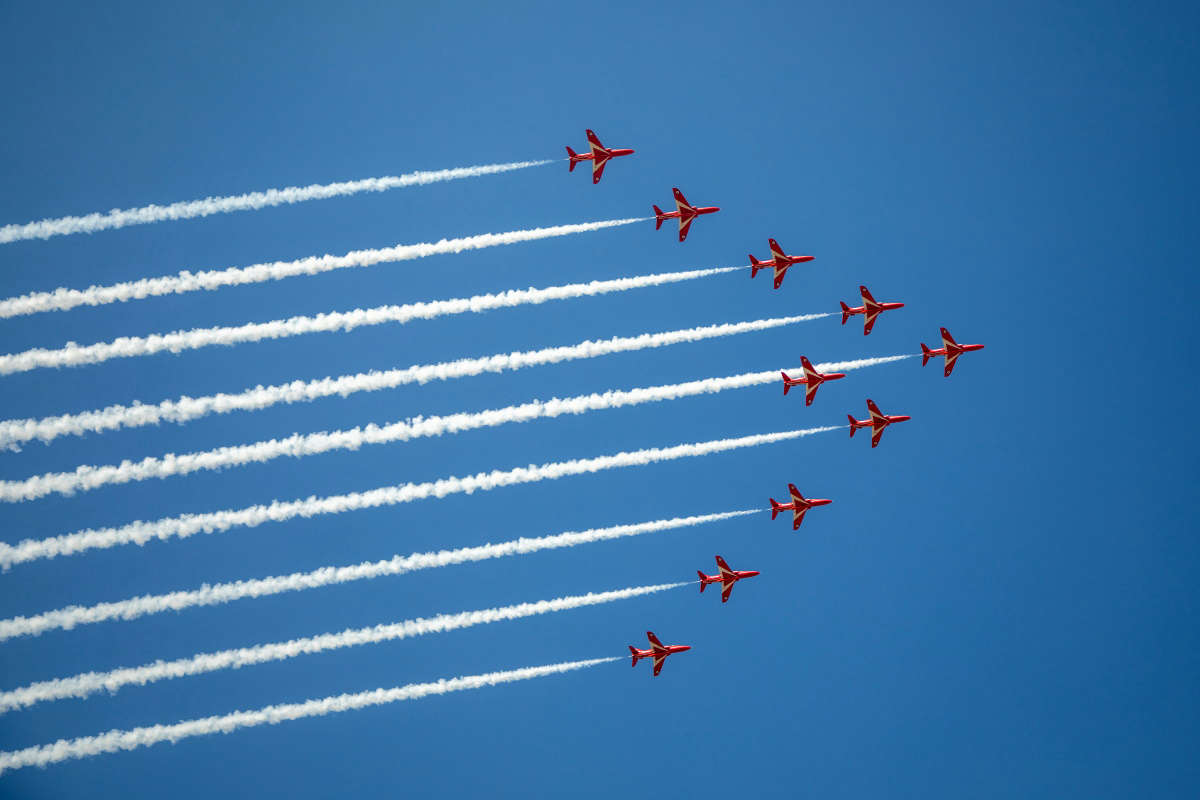 The anticipated times and locations for all the parades and displays taking place as part of Scarborough's National Armed Forces Day event on June 25th have been revealed.
Along with a packed programme on the day of the event itself there are also a number of events in the week leading up to the day.
On the Day events will start at 10am with the official opening followed at 10:30 by a display from the RAF Falcons Parachute Display Team.
There will be a flypast from Royal Navy Merlin, Wildcat & Navy Wings Seafire aircraft at 11:25.
The RAF Red Arrows display will take place at 1pm, followed by a flypast from the Battle of Britain Memorial flight at 2pm. There will also be an RAF Typhoon display at 4:30pm.
The full programme of events also includes performances by military bands, military parades and even Esports gaming.
The week leading up to Armed Forces Day will see a number of flag raising events along with military football matches and children's parades.
Here is the full programme for Saturday June 25th.
| Time | Item | Location |
| --- | --- | --- |
| 10:00 | Opening of Armed Forces Day national event, Scarborough | South Bay – Formal Area |
| 10:30 | RAF Falcons parachute display team | South Bay – Beach |
| 11:00 | Military Parade Step Off | North and South Bay |
| 11:25 | Parade Salute accompanied by flypast of RN Merlin, Wildcat & Navy Wings Seafire | South Bay – Formal Area |
| 12:10 | Soldiers of Swing – music performance | South Bay – Formal Area |
| 12:35 | York Military Wives Choir – music performance | South Bay – Formal Area |
| 13:00 | RAF Red Arrows Display Team | South Bay |
| 14:00 | RAF Battle of Britain Memorial Flight Display – Lancaster, Hurricane and Spitfire | South Bay |
| 14:00 – 16:00 | Esports Gaming | Scarborough Spa |
| 14:00 | Joint military presentation | Scarborough Spa – Theatre |
| 14:30 | RN Wildcat Display | South Bay |
| 14:40 | Soldiers of Swing – music performance | South Bay – Formal Area |
| 15:00 | Navy Wings Reliant Stinson display | South Bay |
| 15:10 | The Yorkshire Corps of Drums | South Bay – Formal Area |
| 15:30 | Navy Wings Seafire display | South Bay |
| 15:40 | York Military Wives Choir – music performance | South Bay – Formal Area |
| 16:30 | RAF Typhoon display | South Bay |
| 17:00 | Sunset ceremony, closing prayers & Three Cheers for the Armed Forces | South Bay – Formal Area |
| 18:00 | Frankie Valli and the Four Seasons | Scarborough Open Air Theatre |
| 19:30 | The Band of Her Majesty's Royal Marines Collingwood | Scarborough Spa – Grand Hall |
Here are the events taking place in the week leading up to Armed Forces Day
| Day | Date | Time | Event | Venue |
| --- | --- | --- | --- | --- |
| Saturday | 18/06/2022 | 14:00 – 19:00 | Military Football Matches | Scarborough Sports Village |
| Monday | 20/06/2022 | 10:00 – 11:00 | Flag Raising – Royal Navy | Scarborough |
| Monday | 20/06/2022 | 10:00 – 11:00 | Flag Raising – British Army & Children's Parade | Whitby |
| Monday | 20/06/2022 | 10:00 – 11:00 | Flag Raising – Royal Air Force | Filey |
| Tuesday | 21/06/2022 | 13:30 – 14:00 | Filey Children's Parade | Filey Seafront |
| Wednesday | 22/06/2022 | – | Reserve's Day | National Day |
| Thursday | 23/06/2022 | 10:00 – 10:45 | Scarborough Children's Parade | South Bay Beach |
| Thursday | 23/06/2022 | 18:00 | Naval Warfare | Peasholm Park |
| Saturday | 25/06/2022 | 10:00 – 17:30 | Armed Forces Day National Event | North and South Bay |
| Saturday | 25/06/2022 | 15:00 | Naval Warfare | Peasholm Park |
| Saturday | 25/06/2022 | 18:00 | Franki Valli Concert | Open Air Theatre |
| Saturday | 25/06/2022 | 19:30 | The Band of Her Majesty's Royal Marines Collingwood | Scarborough Spa |