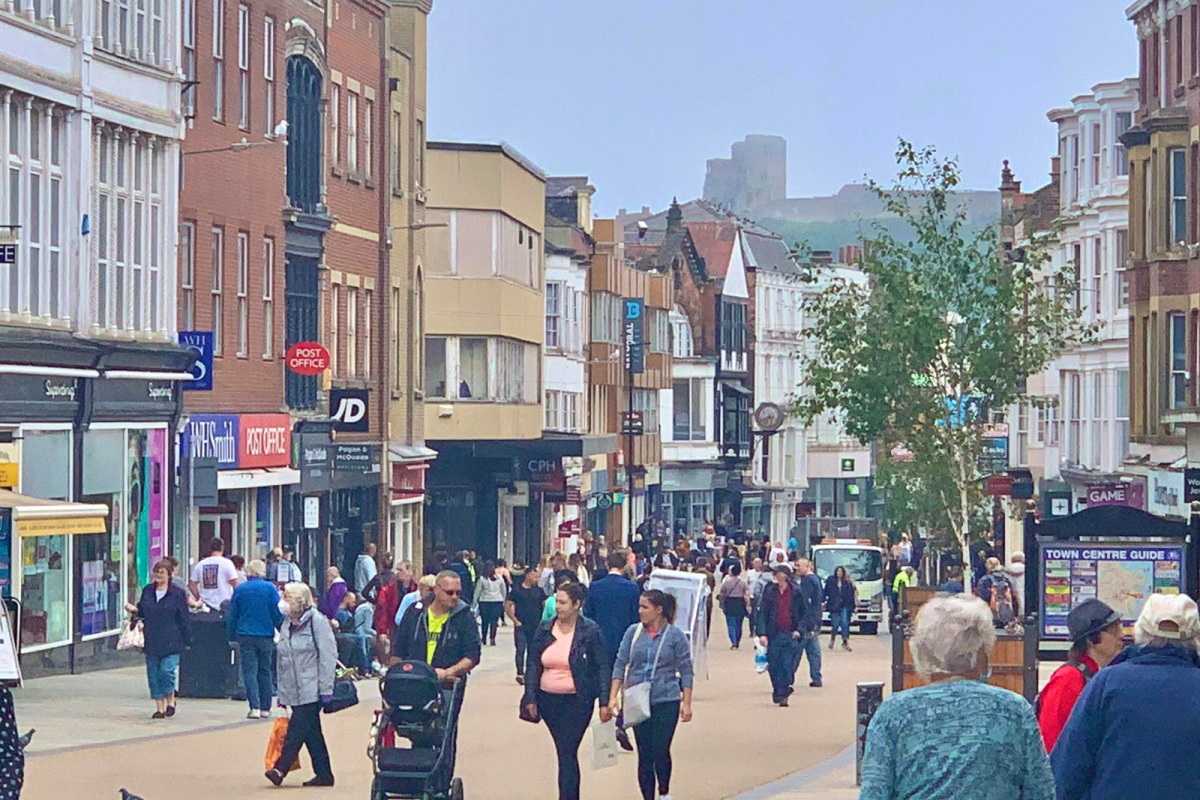 Two Million pounds has been allocated to "Project Sunshine 2" to make improvements to the Scarborough Borough's public spaces.
The Borough Council ran a programme of improvements last year under the banner "Project Sunshine" which among other things, spruced up benches, planters and railings.
Now the project is being expanded.
Council officer Lynn Williams explains some of the aims, of Project Sunshine 2
New public seating; new planting and floral displays and improvements to seafront amenities such as public toilets are just some of the works being undertaken as part of the public realm improvement project.
Lynn Williams says the work will be carried out across the borough.
Other areas set to benefit from the improvements include Council leisure attractions; enhancement of open spaces and green corridors; tidying up grot spots; repairing or replacing damaged street furniture; installation of new artwork; provision of outdoor showers and water bottle refill points; investment in new litter and recycling bins together with improved wayfinding signage and bicycle parking and repair points.
The council says :
"Direct consultation has been undertaken with a range of stakeholders. Officers have attended nominated sites with representatives from both Whitby and Filey Town Councils. Ward members, the Scarborough Town Team, and Council officers have also been a key part of the consultation process. Further direct consultation will be undertaken with key stakeholders during the planning an implementation stages of the works."
£2m has been allocated for the project a recent public budget consultation showed over 76% of respondents supporting phase 2 delivery.
The Borough council says a number of potential improvements have been identified which are subject to securing planning consent where required and other permissions/consents as needed. The identified works are:
SCARBOROUGH (ALLOCATION 870K)
Bike parking/repairs points – location to be confirmed
Improvement of the public realm on Ramshill High Street - Old buildings to be removed and general tidy to make open space
Restore the Murals in Blands Cliff - Artists to renovate existing artwork
Revive the flower beds next to Kinderland and approaching the open air theatre
Repair to be undertaken to Foreshore Steps in readiness for artwork
Install new benches and planters to Bar Street and Eastborough (Merchants Row and Globe
Street junction)
Spa pathway - enhance views from this area via tree thinning
North Bay Plaza - bollards to prevent parking in consultation with NYCC
Water sports hub (Box Park style); showers; lockers; changing rooms and possible hire concession at Old Windmill site
Hairy Bobs Skate/ BMX facility; replace artificial grass with concrete and install shelter
Work with Scarborough Fair/English heritage on a scheme to improve Castle lights
Compactor bins - installation of standard sized bins with greater waste capacity
Remediation work to the Oliver's Mount War Memorial and surrounding area
Alexandra Bowls Centre Gardens (adjacent to Peasholm Road) general tidy of benches
1x Elsan chemical toilet disposal point to support Caravan/Campervan waste disposal
General repairs and painting: fencing and grounds around the Falsgrave Community Centre, seating at Glen Bridge, benches outside the Rotunda, railings at the North Bay plaza, footbridge at Vernon Road, Noticeboards (removal) Royal Albert Drive
WHITBY (ALLOCATION 865K)
Whitby Cliff Lift - substantial repairs required to bring this back into use
Bike parking/repairs points – location to be confirmed
Baxtergate - Old Yorkshire Bank - art works to windows and facia to improve kerb appeal
Baxtergate - planters & seating (limited due to available space)
Brunswick Street - Repairs to handrail currently lose from wall
Deep pavement clean and remove seagull mess (bus station and key areas)
General improvements and tidying to the path from the Abbey Headland Car Park to Church
Street
New Quay Road/Endeavour Wharf planting and seating refurbishment scheme to tie in wider Swing Bridge Improvements (NYCC)
West Cliff - Re-instatement of Whitby outdoor tennis courts - refurbishment of courts and addition of fencing/lighting
West cliff paddling pool enhance to provide a more interactive experience
Compactor bins - installation of standard sized bins with greater waste capacity at Pier Road & bandstand
Repaint and repair railing at Whitby Cemetery, Spital Bridge, Khyber Pass, capstans to Piers and old style lamps on West Cliff
Airy Hill Play Park refurbishment to include new surface to play areas
Replace and repair benches at Marina Car Park
1x Elsan chemical toilet disposal point to support Caravan/Campervan waste disposal
FILEY (ALLOCATION 190K)
Bike parking/repairs points – location to be confirmed
Replace Dinosaur in Glen Gardens – the current dinosaur is in poor state of repair and needs replacement
Crazy Golf – re-vamp and improve current facility
Glen Gardens - Paint walls in Glen Gardens to side of café
Compactor bins - installation of standard sized bins with greater waste capacity at Coble Landing
Install water bottle refill point on seafront - exact location TBC
1x Elsan chemical toilet disposal point to support Caravan/Campervan waste disposal
VILLAGES (ALLOCATION 75K)
Creating disabled/push-chair access to Tracy Hutchinson Memorial Playground, top of New Road, Robin Hood's Bay
Creating Village Map: Bus Shelter, New Road, Robin Hood's Bay
Painting of Albion Road Refuse Sheds in Robin Hood's Bay, Albion Road
Purchase of plants/bulbs/landscaping for Sledgates, Fylingthorpe and Raw Pasture Bank/B1447, Robin Hood's Bay.
Purchase of signage/tourism info - Kingston Field, Thorpe Lane, Fylingthorpe and Fylingthorpe Bus Shelter and Thorpe Lane and New Road, Robin Hood's Bay
Repair and repaint harbour side railings and installation of new planters at Staithes
Re-paint railings/tidy up and new facia at Grosmont Public conveniences