S6F Performance Academy

Passionate about Performance?
Scarborough Sixth Form College is launching a Performance Academy in September 2021. Combining A Level Drama with LAMDA, college productions, trips, workshops, Dance Leaders and much more!
How does it work?
Students on the Performance Academy will study A Level Drama alongside two other courses of their choice from the college's wide selection. For example, a programme could be A Level Drama, A Level English Literature and A Level Music. Thanks to the college's flexible timetabling approach, students can choose nearly any combination of courses to take alongside A Level Drama.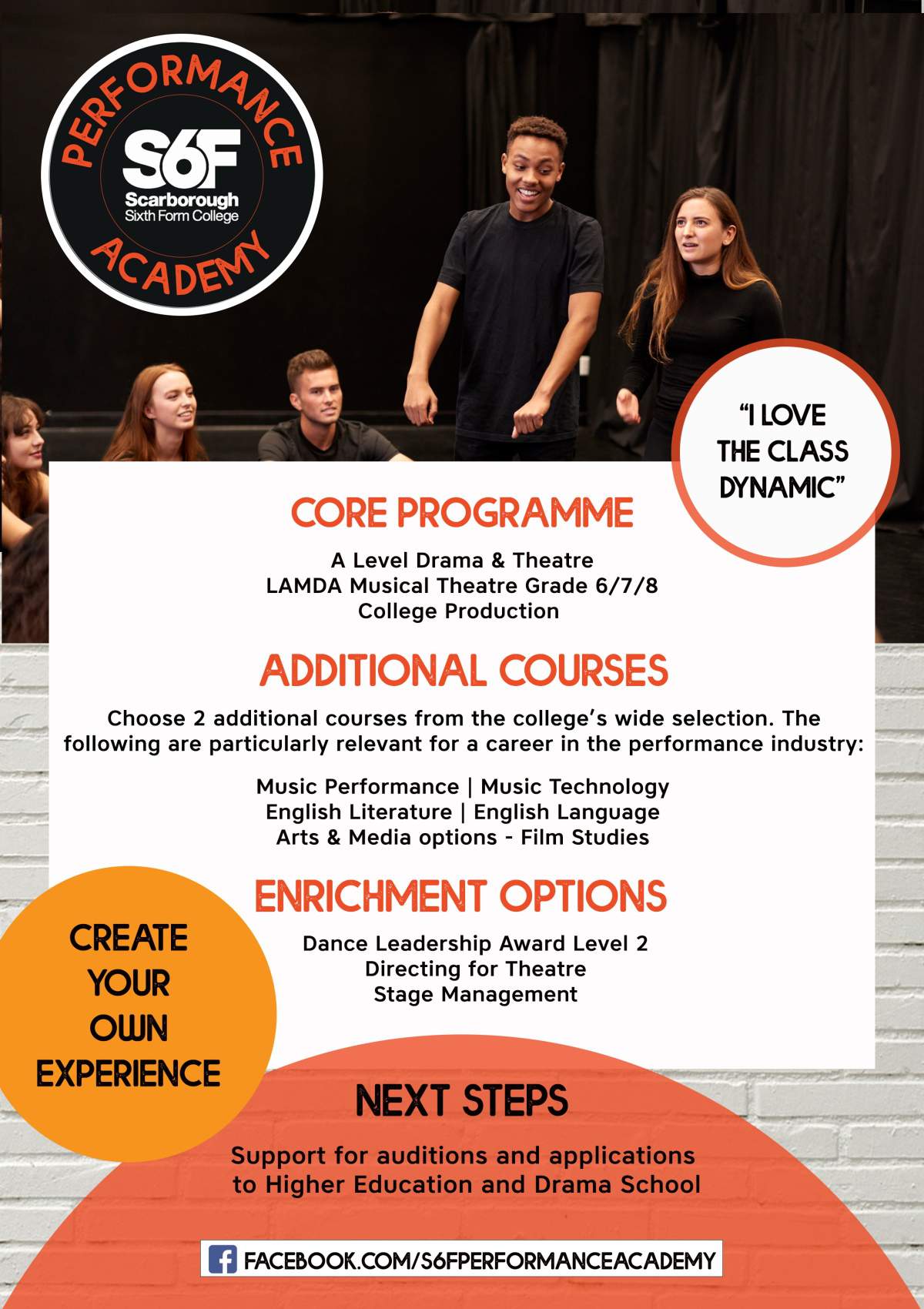 What is like to study Drama at Scarborough Sixth Form College?
Phoebe Cheshire : Studying: A Level Drama, A Level English Language, A Level History
"I chose to study Drama as it's something I've felt passionate about throughout my school life. Every Drama class is different. It's the excitement of the unexpected that makes me want to go in each day! Acting is a group effort, and everyone plays a role, so nobody is standing on the side-lines. When you are around people who enjoy the same things as you it makes your confidence grow."
Lily Welsh : Studying Applied General Criminology, A Level Sociology, A Level Drama
"I travel in from Whitby, but it's definitely worth it when you know the environment is full of excitement, dedication and inspiration.

"When I first started at college, I was a little nervous. Little did I know that it would only take ten minutes into a lesson in Drama to create an amazing bond with some amazing people!"
Fleur Robinson : Studying A Level Drama, A Level English Language, A Level Sociology
"I chose to study Drama at S6F because it is my passion, and I am aiming to incorporate it into my career goals of working with disabled children.

"I love how we get the opportunity to act and perform during the week, even when we are doing exam stuff, we usually get to visualise it as a mini performance.

"I have tonnes of friends from acting clubs who went to S6F. I knew I wanted to come here because they all loved it and they've been successful."
Where can it lead me?
Former student Chris York works as an actor and playwright and has written the award winning play, "Build a Rocket."
Former student Ella Bruccoleri now stars in "Call the Midwife"